"GuideMe" customized resource for Age-Related Macular Degeneration
Online interactive format
New self-help books that know you personally! By filling out a brief questionnaire, you customize your own resource to provide just the information you need, insight into unique challenges you may be facing, and practical steps toward protecting your particular quality of life and independence.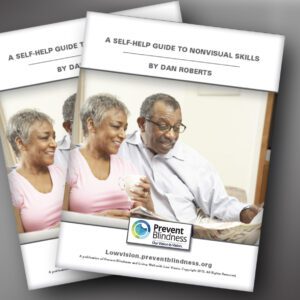 A Self Help Guide to Non-visual Skills
Large print, 89 pages. Available in English and Spanish.
This guide is a culmination of ideas from professionals and patients showing how a visually impaired person can preserve or restore up to 99% of all activities of daily living. The book provides lessons showing how nonvisual senses can substitute for eyesight. It also provides an in-depth overview of low vision rehabilitation, plus directories of distributors of low vision devices, technology products, and software.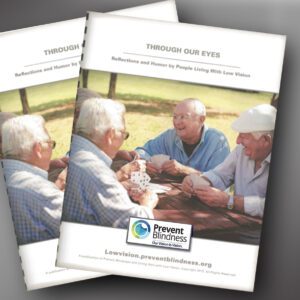 Description: 8.5″x11″ book, plastic comb bound, large print, 111 pages.
Essays and poetry by people from the low vision community. Selected from two decades of contributions to MD Support.
An excellent source of inspirational material for support groups. Includes 15 poems and 19 essays on a variety of topics.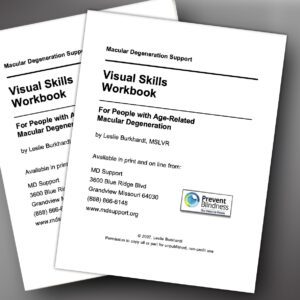 Visual Skills Workbook For People with Age-Related Macular Degeneration
Large print, 62 pages. Available in English and Spanish.
Leslie Burkhardt, MSLVR, has created easy-to-follow lessons designed to help people use their vision better to see objects, to read, and to write.
Designed for people with macular degeneration who:
have had a marked change in their ability to read in the past two years
notice that words or parts of words sometimes vanish or dim when reading
can read at least 50 large-print words, with or without a magnification device, without excessive struggle.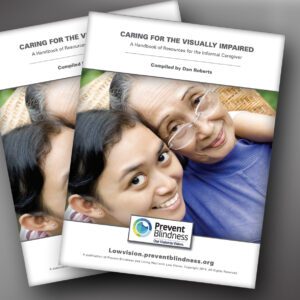 Caring For the Visually Impaired
12 page booklet. Available in English and Spanish.
This unique handbook is full of helpful information and resources for the informal caregiver. Chapters include:
"Who Are Care Givers?"
"The Caregiver's Pyramid of Needs"
"A Caregiver's Low Vision T.A.S.K. Force"
"What Is Visual Impairment?"
"ABCs of Caring for the Visually Impaired"
"Maintaining Independence and Quality of Life"
A comprehensive listing of caregiving resources may be found on the final page.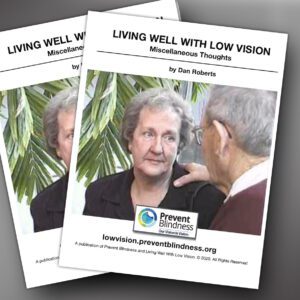 Living Well With Low Vision: Miscellaneous Thoughts
Description: 8.5″x11″ book, plastic comb bound, large print, 106 pages.
A compilation of 30 inspirational, humorous, and educational writings by Dan Roberts, Editor-in-Chief, Prevent Blindness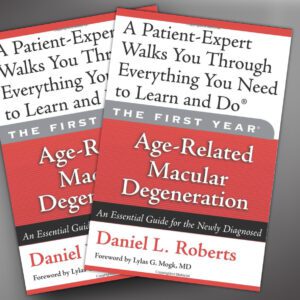 Age-Related Macular Degeneration: An Essential Guide for the Newly Diagnosed
Author: Daniel L. Roberts, MME
Paperback: 352 pages
Publisher: Da Capo Press; 2006)
Visually-impaired educator Daniel L. Roberts applies his wealth of knowledge to The First Year® series, providing crucial information for the newly diagnosed. An essential resource for everyone who wants to be an informed, active participant in the management of their condition.